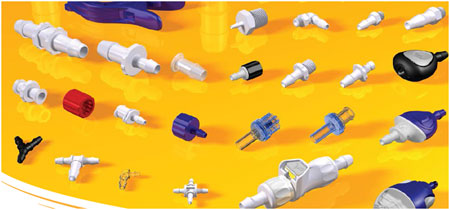 Nordson Medical designs and manufactures plastic tubing fittings and connectors. The range includes luer fittings and connectors, tubing fittings and connectors, thread-to-tubing fittings and connectors, blood pressure connectors, and prototyping (bondable) components, all designed for use with a wide range of tubing materials with IDs ranging from 1/16″ to 1″.
Click to see Nordson Medicals fittings
Catalog
Click to download the Nordson Medicals Bioprocessing Components catalog
---


Ark-Plas is a manufacturer of injection molded and extruded plastic components. The product range include luers, barbed connectors, stopcocks, valves, tubing and more. For over thirty years Ark-Plas has served a wide range of markets from the life sciences to industrial.